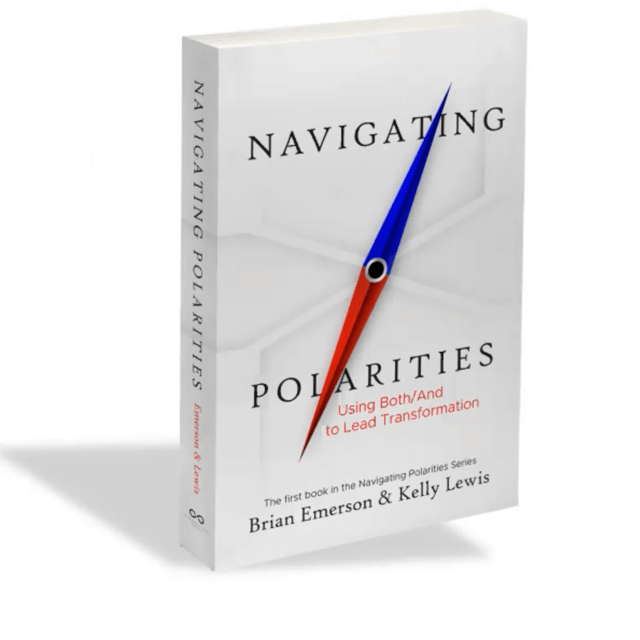 Navigating Polarities Book
Navigating Polarities: Using Both/And Thinking to Lead Transformation, is the groundbreaking, seminal book on polarities by Andiron's Brian Emerson and Kelly Lewis. It offers a nuanced and practical look into what a polarity is, why knowing how to navigate them is important, and how to go about working with them in leadership and life.
"Learning how to navigate polarities is a key skill when dealing with complexity. Emerson and Lewis have written a nuanced and approachable book that will leave you not only wiser, but more useful whether you're leading a team, a project, an organization, or a family. I only wish a copy were offered to all leaders!"

Jennifer Garvey Berger, author, Unlocking Leadership Mindtraps and Changing on the Job
"Navigating Polarities is well-written, insightful and immensely practical at the same time. Emerson and Lewis take potentially confusing concepts and make them elegantly clear, offering a tool to help individuals and organizations move forward when either/or thinking just isn't enough. Highly recommended!"

Amazon reader
Coming Soon
Navigating Polarities will be followed by a number of future books, authored by members of a growing community of polarity practitioners and scholars. These authors, with unique areas of expertise in diverse industries and sectors, will provide usable insights and pragmatic tools across topic areas of interest.
Navigating Polarities and Hybrid Work
Coming soon!
Navigating Polarities and DEI
Coming soon!
Navigating Polarities and Relationships
Coming soon!
Navigating Polarities and Teams
Coming soon!
Interested in hosting a book talk or keynote?